Podcast features DG artist, Ben Honeycutt
Ben Honeycutt, lead artist on the new Demon Hunters webcomic, was recently a guest on The Drakkarium's Geek of all Trades Podcast. Get a sneak "peek"–after all it is audio we're talking about–of Demon Hunters, as well as some info on the even further upcoming new edition of the Demon Hunters Roleplaying Game.
Learn about Ben's love of Anime drawing, his process, and some tales of his childhood.
Honeycutt has been an amazing collaborative asshole, asshat, asset to the DG team. He combat rolls with extreme style and prejudice.
The guys at The Drakkarium are based in Spokane, WA (convenient location for Honeycutt, way to go the extra mile there Ben), and they are truly a podcast of Geek of all Trades, or GoaT for short.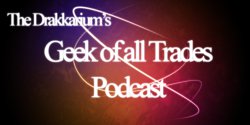 Listen to the podcast directly: Open a New Window or Download
Follow the continuing adventures of Ben Honeycuttt on Facebook (benhoneycuttart) and Twitter (@outlaworange).